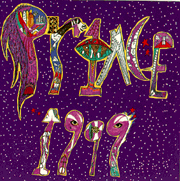 Prince's "1999"
It's now the dawn of a new millennium, but in 1982 a record came out that made me wish it were 1999. Aside from Michael Jackson's "Thriller," this should have been the next best-selling record of all-time. Writer, arranger, producer, instrumentalist, image-maker, designer, etc.,etc., etc....this record is Prince's funkiest to date. And what made it more incredible was its influence from "Jump" by Van Halen, Pointer Sisters stuff till TLC's 1994 "Creep" and the entire "Crazysexycool" album, among many that could wear my head out writing about. The title cut talked about the end of time in a dream, Armageddon, subjects rarely ever mentioned in contemporary music.
But it's the classic metaphor "Little Red Corvette" that turned heads his way. Irresistible board and hooks and a nasty guitar solo to seal up this gem. "Delirious" has those Minneapolis horns in place on this rock-abilly classic. Another hit off this set was "Let's Pretend We're Married," which was covered by Tina Turner and fit her perfectly. But near the end when he says he's going to change the rules, you actually believe him. Yeah, British pop electronics were important in the 80's, but sorry, none of them lasted or were nearly as important as Prince's sound.
"DMSR' was down-right autobiographical at the time for Prince... dance, music, sex, romance. The bass thumping groove in that cut and on "Lady Cab Driver" had street hip-hop stops and turns not even established yet in the rap/hip-hop genres at the time. And if you Love quirky changes and grooves listen to "Automatic." His triumph cut was "Free." It jumped at you 'cuz the beat and feelings expressed were the beat of a different drummer. And it also served as his continuation from "Dirty Mind" about the laughable fight in Vietnam, and for that matter, any brother fighting a war when there's an ongoing one in this country against Blacks. The most straight to the point about life in general without stating "Something in the Water (Does Not Compute)." The tongue-in-cheek "All the critics Love U in New York" was classic...a Brother using the term hippies in the 80's? That covered many barriers and times.
His sound is outta this world...backwards and forward beats, guitar and bass in the pocket, but the keys had no set direction, even though it was well rehearsed and sketched out it still felt so spontaneous and magical. Of course, I didn't forget the final cut, "International Lover," one of Prince's greatest slow-jams, yet also an area that he is underrated in. I guess to some, grooves are the ticket, but this cat's falsetto ain't ta be overlooked.
To this day (and into the future), this album shall continue to influence the world of pop music like no other. So much good material on one record and so Funkkkkkkkkkyyyyyyyyyy!! "1999" definitely made the future look promising.
Maximillian Muhammad
---
If any album redefined pop music in the 1980s, it was "1999," by singer, songwriter and multi-instrumentalist Prince. The 1982 work, Prince's fifth, bridged the gap between traditional rock, techno-pop and full-throttle funk. Yet, it seems unlikely listeners of the day took to heart the depth of musical and thematic complexities of "1999."

The CD, as a whole, far surpasses much of the bland and superficial dance music made today by mediocre studio creations and Prince manques. From cover art to concluding tune, "1999" remains as nothing less than a brilliant music slap in the face to the 1980s musical mainstream. How many artists would even contemplate writing a song about the advent of the apocalypse-and with a smile on their face, no less? But the title cut merely conveys the sentiment that since good things aren't meant to last, it's essential people make the most of the present, preferably by reveling in the pleasures of the flesh. And that is precisely what Prince does on the album: celebrate the many carnal joys of this realm.

However, on "1999," Prince also displays a talent for clever metaphors and double-entendre instead of relying solely on an in-your-face lyrical approach (as he did in the past). For example, the quintessential rock 'n roll car song, "Little Red Corvette," has an irresistible charm simply because it has absolutely nothing to do with taking a ride in an automobile.

How could anyone miss Prince declaring, "I'm gonna try to tame your little red love machine?" Similarly, the suggestive third cut, "Delirious," could not be called a model of subtlety. Over playful rhythms and romping keyboards is an undeniable sexual urgency. This very urgency becomes more palpable in the fourth selection, "Let's Pretend We're Married." Prince utilizes a powerful percussion-oriented beat and driving synthesizers to articulate his belief that only an all-night encounter in the marriage bed with the "bride" of his choice can mend a broken heart. Prince then gives the listener something less serious to consider... a manifesto for the 1980s called "D.M.S.R." In the keyboard-dominated song, Prince sings the praises of dancing, music, sex and romance. He says he doesn't want to get bored, to be a poet or to win awards; all he asks for is a little fun. Of course, it's no surprise Prince has to tell the listener about some of these sources of fun.

The next number, "Automatic," explores what happens when our hero becomes a prisoner of his desire to please. In so many words, "Automatic" has Prince living in a state of complete sexual submission. Lyrics and music create a feeling that the listener has entered a bizarre sexual fantasy, complete with haunting keyboards, futuristic electronic and otherworldly background female voices. The techno-pop mood of "Automatic" is also found in "Something in the Water (Does not Compute)." Here, Prince laments how he keeps finding himself alone, believing it's something his women drink that makes them leave (an interesting thought). A slightly sadomasochistic undercurrent is apparent through the basic construction of the song... drum machine and synthesizer together creating the sounds of someone being slapped.

Prince calms things down a bit with the ballad "Free." After the sound of marching fades off into the distance, the musician expresses appreciation for his political, spiritual and artistic freedom (not one of my favorites looking back, but at fitting at the time). But Prince seems to refer to a sexual freedom that must be fought for, as well. Perhaps he fleshes out this notion of sexual liberation best in "Lady Cab Driver." The song finds Prince telling his troubles to a nameless chauffeur. Overwhelmed by feelings of loneliness, isolation and rage he is compelled to take the woman into the backseat, where the two work themselves into a sexual frenzy to the accompaniment of a strong street groove. A fittingly cathartic and explosive guitar solo ends the number.

Prince follows "Lady Cab Driver" with yet another hard-edged funk tune, "All the Critics Love U in New York." With tongue planted firmly in cheek, Prince has a laugh at the expense of those who think they know what he is about as a performer. He speaks of himself in the second and third person, distancing himself from "Love U's" churning bass and snare and smoldering guitar. "1999" closes with "International Lover," a humorous little ditty that brings new meaning to the concept of thinly veiled metaphor. Ultimately, "International Lover" provides a wonderful sense of closure to a classic album that manages to exult earthly delights and transcend mundane (albeit tidy) musical categories.
In retrospect, "1999" represents one of the high points of Prince's career. Sadly, it also reminds long-time followers of Prince of what the artist he once was. As the Artist formerly known as Prince, he hasn't even come close to achieving the musical and creative levels of "1999" and its ilk. We don't want to hear about the benefits of manufacturing your own CDs or the fight for your masters...we just want good music. We once got entire albums; today we're lucky to get a couple of songs. Maybe 1999 will mark the return of genius.
By Patricia Davis