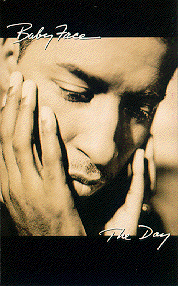 Babyface's "The Day"
by Maximillian Muhammad
In life you can't have your cake and eat it too. But is music different? Cole Porter, Duke Ellington, Billy Strayhorn, Holland-Dozier-Holland, Marvin Gaye, Stevie Wonder, Curtis Mayfield, Prince, Jimmy "Jam" Harris, Terry Lewis are all brilliant song writers, as are Billy Joel, Carol Bayer Sager and so many others. Frank Sinatra, Nat "King" Cole, Michael Jackson, Boyz II Men, Aretha Franklin, Whitney Houston, Mariah Carey, Elvis Presley, Madonna, The Beatles and a select few others are larger-than-life performers. Then behind the scenes you've got producers Quincy Jones, David Foster, Gamble & Huff, Phil Spector, Phil Ramone and Teddy Riley, who are on a comparable level.
And yet, enter Kenny Edmonds. We know him better as BabyFace. He is on target in all of the above categories. Larger than life could describe him. In business as co-owner of LaFace records with La Reid, he's worked with artists such as Toni Braxton, who has two multi-platinum records and a handful of awards to her credit already. TLC, which just broke ties with the artist known as Pebbles (she had the rights to their royalties). TLC also has multi-platinum records to its credit and have garnered awards. Noticing a pattern? Yes? It's called SUCCESS.
Also to his credit are the Rap thinkers OutKast, The Goodie Mob and the "Boomerang" sound track (which sold in the millions). He produced the mega hit, "End Of The Road," by Boyz II Men that was written by La and Face, as well as Darryl Simmons. Oh yeah, hit songs galore. Let's see... Bobby Brown, Sheena Easton, Whispers, Whitney Houston, TLC, Toni Braxton, Mary J. Blige, Aretha Franklin, Boyz II Men, Azyet, Paula Abdul, Jacksons, Madonna, and quite a few others, not to mention being a part of the "Bodyguard's" success, and the one-man show on the music to "Waiting to Exhale." Grammys and a slew of other awards are a mark of this man's success.
Oh, I forgot the artist BabyFace. Well, the first album, "Lovers," didn't exactly burn sheets but it did bring the mid-tempo jam "I Love You Babe." The second album, "Tender Lover," took off like a rocket with the title cut, "It's No Crime" and the classic "Whip Appeal," which was something of an historic song, since he met his wife, Tracy Edmonds while shooting the song's video. (She and Sony Music own YabYum records; its roster includes Brian Austin Green, Jon B. and song writers who work with Face. He and Tracy will be working together...Hmm, more hits?) This album was a multi-platinum success. Then the follow up, "This is for the Cool in you," my favorite, all the way through, then "Tender Lover." The title cut and the breakthrough cut, "When Can I see You Again," were big sellers.
In addition, the song "Well Alright" was featured in the John Singleton Film, "Poetic Justice." Also, he was still working with After 7, a group comprised of Face's two Brothers and LA Reid's cousin. I say this 'cuz LA and Face cooled of each other, but the business continues to thrive. It brought the Tony Rich Project out. But could he work without LA? Well, "I'll Make Love To You" By Boyz II Men, "Take a Bow" by Madonna, "Waiting to Exhale's" soundtrack going multi-platinum, spawning Mary J..Blige, Whitney Houston, Brandy--all high on the charts. Not to mention work with Tevin Campbell and providing production on Eric Clapton's "Change The World" hit. He's even worked with the "King Of Pop" on the Spike Lee film, "Get on the Bus." The song with Michael Jackson is called "On the Line." Is he the next Quincy Jones? We will have to see. But as Stevie Wonder has said (he appears on the record), no one comes even close over the last 10 years in terms of SUCCESS.
Now comes the latest, "The Day" and yes, I was hyped. But with the exception of the main hit, featuring the original Shalamar and LL Cool J, something's missing. "This is for the Lover In You" is the direction he should have gone in. "Every Time I Close My Eyes," which features Mariah Carey, also becomes a problem... I'll explain in a bit. With this record and the classic sounding "Simple Days," the rest sounds too industrial. Like the over-the-top "How Come How Long" with Stevie Wonder. Enough OJ already. Would have been different, say, 3 years back. But everbody is yelling spousal abuse or abuse in some form, and in most cases, fashion. The song, "The Day," written for his son, could have taken a cue from Stevie Wonder's opus, "Isn't She Lovely," an expression of fun and joy, not some sappy come-on.
What makes Face's records good is a sense of his melody and feeling. But to just get all the people he has worked with to be on it is not the kind of thank you the listener needs. It's his vibe on feelings like Luther Vandross that gives him edge. This album suffers from too many thank you's, as opposed to what's going now Face? It, for the most part, sounds and feels like an industry get-together with Kenny G., Boyz II Men, Mariah Carey, Eric Clapton, LL Cool J....even Stevie Wonder sounds suspect. However, it will be another multi-platinum Disc regardless. While I can't praise this effort, he is still the Man, The Genius of Today...but for how long? Nobody knows. His pen is like "TIMEX"-- it just keeps on ticking.
home I what's new I featured artists I archives