Billie Holiday
By Maximillian Muhammad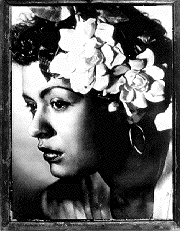 What can you say about Lady Day? While everybody has their favorites, if it's a female artist that puts something on the mind, Lady Day's name always comes up. She's the measuring stick... period. Three discs don't even begin to address her importance. She made material for the ages, from Aretha Franklin, Mary J Blige, Erika Badu, Sade. Diana Ross portrayed her in Lady Sings The Blues; others have been compared but like the song says, ain't nothing like the real thing.
Songs such as my man, you go to my head, the very thought of you, night & day,God bless the child, He's funny that way, All of me, fine and mellow, Miss Brown to you, saddest tale, you let me down... the words, expressions, colors and thoughts are captivating. She wrote material on these discs, but the way she expresses it, you would thought she did it all herself. That's how powerful she was with words and meanings. She made you see what was going on in her world. You get artists today who talk about certain things and then they go on with their life, but not Lady Day. Her music and her voice were an open book that said, "this is me." You get blues but you also get passion & Pain. She dealt with Racism, Romance, Love, Joy, and, above else, being a human being. She made you respect what she had to say. Think how competitive it was with her, Duke,Then Bird, Miles, Dizzy, Count, Ella,Nat, and countless other powerful talents. Meaning you better be A game cuz B wasn't gonna cut it.
She is a musical and African-American treasure. She is even bigger than that... she's a world treasure. She's the benchmark of greatness and everything else that comes with it. Her genius and Legacy put her in a class by herself. Long shall live Lady Day.