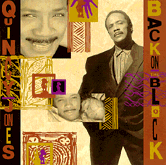 Quincy Jones: "Back on the Block"
By Maximillian Muhammad
Quincy doesn't back down from challenges and that's what he wanted to do on this multi-styled record. There's something for everyone and yet its hits New Jack Swing. It has mixed results but first class performers: old writting pal Rod Temperaton and his own son, QD3, along with James Ingram, El Debarge, Al B. Sure and Barry White, who appear on the masterpiece cut, "The Secret Garden." Tevin Campbell stands out on "Tomorrow (Better You, Better Me)." "I'll be Good to You," with Chaka Khan and Ray Charles, does too, as does the title cut with Melle Mel, Kool Moe Dee, Big Daddy Kane, Ice-T, and long- time collaborator Siedah Garrett. Birdland features George Benson, James Moody, Dizzy Gillespie, Miles Davis, Ella Fitzgerald and Sarah Vaughan.
So mmany first class performers, not to mention the countless brillant musicianson the record. Yet it's not as deep as you would expect, mainly because of "Back on the Block's" remakes, and unlike "The Dude," it isn't fresh. That's not to say it doesn't pack talent, 'cuz it does. You just expect a different flow from Q...something new and cutting edge not too predictable. But his work is influencial no matter what and the future sure looked bright with 12-year-old Tevin Campbell, the same age that Q met Michael Jackson and Aretha franklin, so something powerful did come out of this but not necessary what you'd think. Even average Q is still class and a cut above the rest.
home I what's new I featured artists I archives