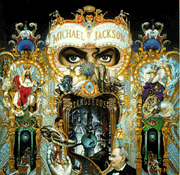 Michael Jackson's "Dangerous"
By Maximillian Muhammad
The King of Pop started the 90s with a surprise first...Teddy Riley was enlisted instead of Quincy Jones to co-produce and co-write 6 of the tracks. Secondly, they would mix New Jack Swing, Teddy Riley's signature sound, with Michael's style...and it actually fit. Cuts like "Jam" was a 90s take on "Don't stop 'til you get Enough," while "Why you Wanna Trip on Me" was an answer back at folks that find it funny to diss Michael instead of more important issues.
"In the closet" is a very funky up-tempo gem: check out Teddy playing the parts near the end in step with Michael's phrasing. The Philly sounding "Remember the Time," which was co-written with Teddy, Michael and Bernard Belle, had the smooth harmonies that showed you Michael still has soul. "Black or White" a take on love, people, and society at large, carried the message that if you'll treat me right I'll show the same your way. "Dangerous" also had Michael's rethread of "We are the World," "Heal the World"...same cause and meaning. "Who is It?" has a haunting lyric that's intriguing and continues the "Heartbreak Hotel" story somewhat. "Give in to Me" and "Black or White" feature Slash on guitar, but on "Give in to Me," Slash's talent is used more liberally.
The Michael code of songs includes a guitar-oriented song and spiritual songs, as well as songs like "Will you be There," which also doubled for the "Free Willy" soundtrack, the first release on Michael's MJJ Records. "Gone too Soon' deals with the loss of Ryan White due to AIDS. The song also provides a reminder of how smooth Michael's vocals can be. Yet, I prefer that tone on a song that didn't make the cut (but that you must own) "Somebody Put your Hand Out." It has an old school feel with a new jack edge. The drums and beat sounds were the same from "Bad," which despite Teddy Riley's sound mixed with Michael's, it still remained very much like a Michael Jackson record.
"Dangerous" was a risk. But despite his success, he has always taken risks and working with a hit-maker is no sure thing. Some people thought he lost his originality but that wasn't the case; he just worked with what was happening and mixed it with his style. To be the best you have to try different things and that's something Michael isn't afraid to do. And this Album works. It takes pieces of "Off the wall," "Thriller" and "Bad" and combines a 90s flavor. The title cut shows an 80s to 90s take coming on. You never know who he will work with next but you know it will undoubtedly have Michael Jackson's stamp on it.
home I what's new I featured artists I archives