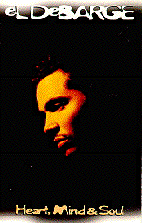 EL Debarge
By Maximillian Muhammad
This brother is so wicked it ain't funny. as a writer, arranger, Musician,Producer and as a vocalist it's mind-boggling this man's range and talent is relentless. From the time i was younger hearing I like it, all this love time will reveal, Queen of my heart, whose holding donna, this man's talent has always been vibrant. It's a shame he doesn't get hardly any Love cuz his talents as a songwriter and producer, as well as a vocalist, exceed a teeny mag. His Gemini and Heart, mind & Soul albums are two of my many all-time favorites. He does Marvin Gaye better than anyone else period. especially on the foreplay and his album in the storm After the dance. In fact that song and the Secret Garden the duet with him AL B. Sure, Barry White, and James Ingram on Quincy Jones Back on the block album are two of my fave cuts in the last ten years. Also his vocal contributions on DJ Quik's Medley for A "V" are off the hook. His vocal presence on Quik's album takes it to another level.
He has so much soul, passion and drive, and yet listening to him seems so effortless. While most artist today have to have 99 guest appearances to hold both cheeks up EL can be like burger king and do it his way. his 94 release Heart, mind and soul was easily my favorite record from 94 and for me this was one of the greatest records that Babyface has been associated with. He should be considered a soul genius cuz that's what his music has meant to me. His influences of Marvin Gaye, Earth,Wind & Fire, Stevie Wonder, are some of mine, as well, and speak volumes. But his originality on top of that is something that Legends are made of. Very few artists possess the goods. Folks in the know know what the goods are and bro EL got it like that. As Musician and Vocalist he can hang with hum ever at will. Like i said before, it's a shame folks have a fast-food mentality when they can get a full meal of Genius right before their ears. ELMO can bust with any flavor.
home I what's new I featured artists I archives