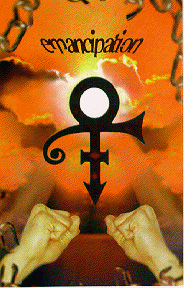 Emancipation
While "Emancipation" is not the masterpiece The Artist's fans have been waiting for, it undoubtedly comes across as a powerful statement from a genuinely gifted artist. The three-disc set contains numerous songs that make it easy to forgive The Artist for his faults of late. Although there's a fair share of tracks that could have just as easily sat in the vault and collected dust, one must respect The Artist for the depth of his vision and his willingness to explore new sounds and styles.
A certain sweetness permeates many of the tracks, including the covers "Betcha by Golly Wow!" and "La, La, La Means I Love U," as well as "One Kiss at a Time," "Dreamin' About U," "Let's Have a Baby," and, of course, "Friend, Lover, Sister, Mother/Wife." The sentiments are touching, and the arrangements rich. If this man isn't in LOVE, then he's a much better actor than he has previously led us to believe!
The Artist is also on the mark in many of the mid to up-tempo songs, such as "Right Back Here in My Arms," "In this Bed I Scream," "Emale," "My Computer" and "Sex in the Summer," constructed around the heartbeat of his unborn child. The playful, flirtatious vocals seems right at home with the pulsating effect created by the heartbeat; he manages to make the package work brilliantly.
Some may not appreciate the feelings behind "White Mansion," where The Artist sings of someone trying to do him cold and convince him to sell his publishing rights (read: Warner Brothers)--"I don't know Bo, but I do know math"--but it's hard to argue with the effective synth strings in the background. "Somebody's Somebody" is outstanding, both musically and lyrically, and he sets the mood with "I Can't Make You Love Me." All apologizes to Bonnie Raitt fans, but this song makes me so weak, I forget that The Artist didn't actually write it. The Artist's powers of seduction remain strong. Similarly, his rendition of "One of Us" is nothing short of tremendous. It brings to mind "The Cross" from "Sign 'O' the Times," perhaps the single greatest record of his career.
That is not to say "Emancipation" is another "Sign 'O' the Times." When such was produced nearly 10 years ago, it showed The Artist for the trend-setting and visionary songwriter that he was. Lately, he has proven himself more a follower than a leader. This is particularly the case on many of the cuts on the final disc. Although he redefines House music in "Sleep Around," his attempts at techno and rap seem to fail miserably. "Slave," "New World," "Face Down," and "Da, Da, Da" are all forgettable. "The Human Body," "Style," and "Emancipation" are passable, but we know he is capable of much better. In fact, this very problem has characterizes most of the records over the past several years. Since "Diamonds & Pearls," he's mingled knockouts with knock-offs, and the result has been mixed. He'll put several songs that make you stop and take notice, then he'll fill the remainder of the album with average to sub-standard material. Sadly, "Chaos and Disorder" had but one song that was really worth a second listen, "Dinner with Delores." Strangely enough, the melody brings to mind a folk song from the early 70s.
Additionally, The Artist has a way of creating songs with potential, then allowing the pieces to unravel right before your ears. "Joint 2 Joint" is a perfect example. It starts out interestingly enough, then begins to fall apart about a two-thirds of the way through. Perhaps he was thinking of another song in the studio and didn't pause to realize that the two melodies had nothing to do with each other.
I'm ultimately left with the impression "Emancipation" could have just as easily been a two-record set. Yet, I do not begrudge The Artist's desire for self-expression. For, when it comes down to it, he still has the ability to take our minds on a trip, to let us forget that our lives are sometimes unfulfilling, our futures vague. "Emancipation" may leave something to be desired, but it gives new hope for the music that is to come. It reminds us that perhaps The Artist's best work is not yet behind him.
Patricia Davis
---
Free at last! Free at last! Free at last! is the call for afkap or is it tafkap or... please be Prince again. After the last few years in war with Warner Brothers after signing a $100 million contract in 1992--and since that time getting out of it--he has gone as far as calling himself a slave. Even putting the word on his FACE. Slave? A rich slave, mind you. In the 80s he was one of the most important artists. Musically, he was the greatest one-man band since Stevie Wonder and a top flight entertainer that could and would make even Michael Jackson take notice. He was the teacher to Madonna. He WAS Mr. 80s.
But what about the 90s? Would the sex and spirit theme continue? It hasn't gone as planned after "Graffiti Bridge" bombed, his movie career almost wrecked his music. He came back glitzy but in a rather sold-out way with "Diamonds & Pearls." Not exactly earth shattering, but he did have a monster groove in "Gettoff." Then came the symbol record, which sounded just like "D&P." Following that was a so-called hits package that was choppy when dealing with the primary selections.
Then came "Come," which never quite shot off. The notorious "Black Album" was finally released, but if you're anything like me, you long had this one in your collection. By the time it dropped in 1994 it had lost its luster. "The Gold Experience" came as the next must-be-all-right record. Right? Wrong, aside from "Billy Jack bitch," "I Hate U," and "Pussy Control," nothing new or special, except more hype. 1996 brings "Girl 6," a hits soundtrack for a Spike Lee joint. Good, but nothing you probably didn't have already.
So the kiss-off record "Chaos and Disorder" finally arrives. Listening to this from him was like hearing him say "Kiss My Black A**!!!" to Warner brothers. Cold and no passion. To quote Dr. Dre: "Been there, done that." After a wrecked "Dinner with Delores" (no pun intended) comes a record where he's proclaiming his true self.
Well, after the recent bumpy ride, so far there have been no major hits except for "Nothing compares 2 U" by Sinead O'Connor and even baldy doesn't talk about him. No proteges to boast about either, with the exception of Carmen Electra. But look between the A and the T for her true talent. Grammys, gold, platinum, Oscar, film, talent scouting...things once certain are a thing of the past huh? Joffery Ballet, Broadway, interactive multimedia and stability are in now.
The once Purple Lady Killer in song and dance settling down? That's the new proposed chapter in this Paisley African wunderkind Genius Man's plan. To be free.
Off the bat, "Sign 'O' the Times" is still my fave period. "1999" is next, then "Dirty Mind." I say that because "Emancipation" has to be all that and cookies 'n milk. Well, not yet. Actually, it's "D & P" all over again. Promo, promo, promo but not much substance, just like the Versace trip.
"Somebody's Somebody" has 90s flavors. "Damned if I Do," "In this bed I Scream," "Sex in the Summer," "One Kiss at a time," "Soul Sanctuary", "Dreamin' About U," "Friend, Lover, Sister, Mother, Wife," "La, La, La Means I Love U" all work, even though the latter is a cover...more on that in a little while. "My Computer" stands out and "Sleep Around" is the baddest jam he's done in a long, long time. He's in his element in this funky groove; this cut is in His Zone. True Prince kick-in-your-a** groove.
What's missing from this set is originality. He's trying miserably to rap or do house music, Broadway, and worst of all, doing covers. Yes, being in charge has it's price but does it mean abandoning your self? While I keep supporting this Man now known as the Artist, I ask is that con Artist? Because for those who can relate, somebody took Prince away and we would like this impostor to go away or "1999" will end up seeming like a novelty instead of it being light years ahead of the times, which it clearly was. In parting, one favor I never thought I'd have to ask: Please be yourself. Because the so-called alternatives and newjacks can't F with UPTOWN...Find Prince.
Maximillian Muhammad
home I what's new I featured artists I archives