Jimi Hendrix
By Maximillian Muhammad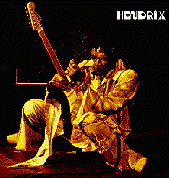 Explosion,excitement,fire and can you imagine what if he lived. I'm talking about Jim Hendrix who made his Guitar sound like a symphony. and his imagination was the conductor. what blows me away is the tight funky grooves here. While pumping out classics such as purple haze, hey Joe, foxy lady, with Mitch Mitchell & Noel Redding, they blow most of that away. With Buddy Miles & Billy Cox aboard this cd slams. the JH experience are good but the overall depth ain't the same as the Band of Gypsies. the funk is driving all upside your head. Jimi always had funk in him but the disc shows that if he lived and gone that direction purely Funk was already competitive as all hell already and throw Jimi into the loop and you better have your chops down. cuz this disc like so much of Hendrix's work was no joke.

I believe that if Jimi were alive today he would cause mad mad havoc. with the way rap has gone and of course in rap and certain Jazz artist Jimi was ahead of his time. Listen to 70's funk solos and some 80's keyboard solos they bare Hendrix's signature. on this disc We gotta Live Together a slamming take on Sly & the Family Stones everyday people. Wonder what Sly & Jimi would have sounded like together. Machine Gun, Stone free, get the funk make over as well. Of course wild thing, which when compared to original, just like All along the watch tower, gets the Jimi remake. He blows the original into the water. He even does Guy Lombardo's Auld Lang Syne. he once did the Beatles Sgt peppers lonely hearts club album the weekend after it came out on stage. he played all the songs on Guitar. his talent was scary. the things he could do and the tones and feelings he gave off the guitar were majestic. not only for collectors and fans but this is a must have Album.

It's also wonderful to note that his family controls the rights to his work. He is to me just like Duke Ellington... a classical musician and deserves the best, cuz he changed the game of music forever. Little Richard is bad and scary and scared White America for a time until they got Pat Boone to do cheese covers. Jimi also played with Little Richard... great minds have vision. And also the Isley Brothers. But just Like Little Richard and even more so his theatrics scared White Folks even more. For a Brother to play like he did and be himself like he was was scary. and it's a shame that he had to to Europe to get Love. just like with many African-Americans at the time and before the racism which is very happening now in 1999 forced a work trip abroad. and he ripped England and everywhere else up. like i said before we will never know what could have been but thank you for these and whatever else comes out cuz Jimi was a bad brother who was taken on the world and wasn't gonna be stopped. And his wasn't. It's as relevant then as it will be 100s of years from now.
home I what's new I featured artists I archives