James Ingram
By Maximillian Muhammad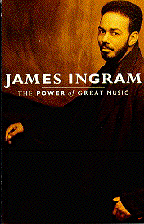 What talent and determination. He can tackle any type of song and give it life and character. He is a champion of song. Not only working with the greatest Producer in music, Quincy Jones, but developing a career as a song-writer such as PYT for the "King of Pop" Michael Jackson, or playing a wicked Moog synthesizer on Bad Mama Jama for Carl Carlton, or dueting with Kenny Rogers and Kim Carnes or Linda Ronstadt on his track Somewhere out there.This Brother is badd! And all the jams with the Aretha Franklin, under-appreciated Patti Austin (she can Sang)... How do you keep the music Playing? Baby come to me. Who else could start out with Quincy Jones and land songs that endure time such as Just once and one hundred ways.
His first album, It's your night, is not only one of my favorite debut albums but also one of my many favorites of all-time. Cuts like Ya mo be there with the soulful Michael McDonald never age and Remember The dream are so powerful and soul felt that you feel warm even in cold weather. That's talent you just don't get everyday and especially in these days and times. Or singing the lights out of I don't have the heart. He has been so versatile and spirited. You feel the passion and drive. He hasn't gotten his just due as important as he has been to music in general. When you hear his voice or hear his keyboard playing it's deep. Hard work and determination are rewarded with good solid music to mine and other people's ears. Brother James can give a sermon on any form and that's the truth.
home I what's new I featured artists I archives