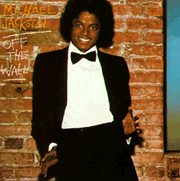 Michael Jackson's "Off the Wall"
By Maximillian Muhammad
From the white socks on the cover you just knew this record would blaze and did it ever?! Regarded as the best MJ record and I agree. "Thriller" and "Dangerous" were great but this record is so scary that words can't explain...genius from Quincy Jones' input to Michael singing circles around anyone at this time with force and so much Soul.
The first song shows that Michael ain't just a song and dance man...he can write, too. "Don't Stop 'til you get Enough" has a bumpin' beat and tight horns that make it endless. Same goes for another MJ-penned song, "Working Day and Night"; its bass and horns going one way and then another comes in on time. But songs that broke categories were the classic, "Rock with You" and the title cut, both written by Rod Temperton, who also wrote "Baby be Mine," "The Lady in My Life" and the title track on "Thriller."
"Girlfriend," "She's out of My Life," "I Can't Help it" and "It's the Falling in Love" all could go under any format. They have so much feeling, passion and emotion. This album is the bench mark of Black pop. What so many companies try to do today to break an artist into cross-over territory was done with "Off the Wall." This is the album that started that. Also of note is how many teenage artists get bigger as they get older and become forces? That's a tribute to this child prodigy. Tell him it couldn't be and it became. He proved it's wise to not to listen to anyone but yourself. I'm sure the thought of him and Quincy together got snickers, not to mention the fact of him being bigger than he was as a boy. But that's the Legend of "The King Of Pop"...he has that vision to defy the odds.
And contrary to those that think he was trying to sell-out, he was rolling with Quincy Jones when it wasn't cool. He wanted Q and he got what he wanted: The Classic that is "Off The Wall," the biggest selling record of all-time, "Thriller" and the mega worldwide seller, "Bad." And the rest is History. "Off the Wall" laid the blueprint and showed a fire that wasn't going away!
home I what's new I featured artists I archives