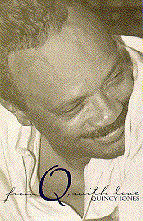 Quincy Jones
By Maximillian Muhammad

What else can you say about the Greatest Producer who also worked with two of the greatest artist of all-time: Michael Jackson and Frank Sinatra. that alone my friend can be enough said but it's not cuz Q shows here what got him that title. the songs are Just once, James Ingram, Human nature Michael Jackson, Secret Garden EL Debarge,Barry White,James Ingram,AL B.Sure, the shadow of your smile featuring count Basie and his band with Frank Sinatra on vocals. Love Dance with George Benson, Patti Austin & James Ingram on Baby come to me. Aretha Franklin, Qd111. Brandy, Heavy D, Tamia,Brian Mcknight etc. are all featured here. it shows what hard work and solid talent can achieve... be it the the new duet with El Debarge and Sidah Garrett, I'm yours, or the new Jack Catero on something i cannot have, everything with Tevin Campbell or If this time is the last time with Patti Austin. My fave of the new songs.

It's incredible. this man's Legacy is awesome. 50+ years being at the cutting edge. It's always tough being Black in America and to achieve what he has and still have more to give he is a truly blessed human being. He to me is music as we know it. there's always trying to proclaim themselves the next Q. but it's not just his success it's the way he goes about business and expectations but also a real human touch. to have so much and yet want to give back so much takes time and effort. many people will never understand the depths of his legacy but not only the whose who he has been associated with but how well the music sustains it's importance. That's consistence and it's at the highest level of hard-work. To quote the last song, which features Toon Thielemans, Barry White and Mervyn Warren, at the end of the day this beautiful signature is grace. Originally he made this as a gift for good friend Oprah Winfrey. So many friends should be so lucky. how many Producers today will be able to put 5 solid songs as a gift let alone 25 worthy ones. And let's be realistic there's only one producer today who even comes half-way close and his name is BabyFace and he was on Jook Joint on the Slow Jams. Q even got the Man in waiting to appear on his record. Q will always be in A class by himself.
There will never be another Q. And what's scary is this is volume one... wonder about the next ones to come? He is music. He is Quality and Qlass.
home I what's new I featured artists I archives