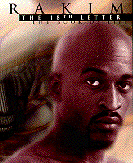 Rakim
By Maximillian Muhammad
Words are powerful and forceful but combined they are an element unto their own. And that is the king of the mic Rakim. Back in the day of 87 a rapper and his partner Eric B forever changed rap and word usage was used by hitting your head with lyrical assassination, which is a lost art, I'm sorry to report in 99. but cuts like follow the leader,i ain't no joke,paid in full, Eric B. is president microphone fiend, My melody, know the ledge etc.. i speak for a few who would agree that 85-89 was the peak of rap and to squeeze between Public enemy and Bdp(Krs-one) was no easy feat giving up the knowledge and maintaining grooves but Rakim came like a boxer on the rope from round one and fought to be the top pin.
No matter who comes along they have to go thru Rakim. Cuz his talent and legacy are etched in street stone. on his newer tracks like The Mystery (who is God?) who is bold enough in any genre to break it down? this guy could rock with James Brown on one hand and flow with Kirk Franklin on the other. He is that explosive and Badd all at once. Cuts like Guess who's Back put a wording to the head putting everything in solid gear. He speaks to the golden age of rap when a turntable, mic and hunger and creativity were all you needed. In old school tradition he has earned his keep. Rather fire, fury or the average brother on the street to intellectuals this guy can hang with them all. And to be considered the baddest ever on the mic speaks volumes.
What Miles Davis is to Jazz is what Rakim is to Rap. Period.
home I what's new I featured artists I archives