Rick James: Urban Rapsody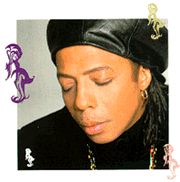 By Maximillian Muhammad
Yes, at last, Funk is back with the punk-funk king himself. Strings, horns, vocals and all 90s style. The title track takes you back to Rick's early days but with 90s flavor. He can still deliver the funk and roll with the best of them. West Coast thang is so sly and catchy..."Somebody's Watching You" speaks volumes to African-Americans everywhere. Confessions of Abuse and outta control ways are mentioned, as well as Rick's time at Fulsom.
Ten years ago, with "Wonderful," Rick seemed to be playing to trends, but this album shows he can fit with any flavor. Hear "Bring on the Love" and you will see and feel why Mary J. Blige samples his strings and sound. On "Mama's Eyes and "Soul Sista" he out-babyfaces Babyface and Tony Rich. Good news...this Album was Co-produced with Danny (remember "blow Danny" on "Dance wit me"?) Le'melle so you know the goods were coming. Snoop Doggie Dogg, Bobby Womack, Charlie Wilson, Teena Marie, Mary Jane Girls, Stone City Band are all here. But it's the Funk Man from
my hometown who steals the show. Rappin4ta sets it up but Rick runs with it from the title cut to the end. The best Rick joint in years all the way through. I heard there were 300 more...if they bump like these 15, bring them on. Rick's a master of sound production, a damn good writer and honest as hell about the current state of music.
And I mean this from the bottom of my heart...no samples or 3 remakes and no Bull-S*** PUFFY! Just the straight -up bottom of Funk, reality and imagination. The kids need to hear the real thing...it's the stuff that MTV and Rolling Stone won't touch. Don't sleep on this. It's the best record of the year.
home I what's new I featured artists I archives