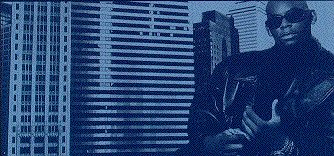 R. Kelly: R. Kelly
By Maximillian Muhammad

The follow up to 12 play by now with all success comes backlash and from the controversy of Aaliyah while scoring a big hit with her album called age ain't nothing but a number featuring Back-N-fourth and going platinum rumors of a marriage between the two surfaced. the stuff rock-n-roll legend is created of. but despite that he wrote and co-produced you're not alone for Michael Jackson's History album which debuted at number 1. also Heavens girl for Quincy Jones on the album Jook Joint. In addition to songs for changing faces. he was becoming in demand for all different types of artist and succeeding. now his follow up after all that what does he have in the tank? well the first single kept the controversy ablaze you remind me of my jeep while a huge hit some folks were tweaking about the metaphor. but come on...in rap,rock,country there have been worse.

But because of this dynamic talent more was expected out of him. and did he deliver with the scorching Down low(nobody Has to know) with Ronald Isley of the longevity and still happening Isley Brothers. and his brother Ernie blazing solo just like he did in the 70's on cuts like Summer Breeze and whose that Lady. but this cut gave Ronald Isley a new identity as Mr.Big. then came I can't sleep baby(if I) the hits just kept coming. also of note like Sam Cooke, Ray Charles, Aretha Franklin, Marvin Gaye & Prince before him the scared and profane became his theme. the bump-n-grind was also the Religious Love. he is able to juggle that like few others. a solid cut with the Notorious B.I.G on (you to be) happy. again his church feel mixed with street was a lethal combination. he was rewriting the chapters of R-N-B and nobody was gonna stand in his way. he throws some curves with different things that may come out involving him but his Art and in the end that's all that matters speaks volumes. as writer, producer, image maker, conceptionalist he was building the genius.
home I what's new I featured artists I archives