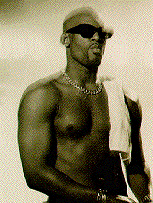 R Kelly: R.
By Maximillian Muhammad
Again the Chi-town native hit pay dirt with 29 songs. a first with many collaboration and outside production. to many artist do that today and would it work for him? this guy has proving time and time again that with the exception of the CBA (Basketball) he can do whatever he has to. this album starts off with that trade mark west coast feel on the G-one produced Home alone featuring Keith(everything's beautiful) Murray. G-one is heavily associated with the super bad DJ QUIK. the next cut has Puffy on production on Spendin' Money we ride features Cam'ron,Noreaga,JayZ and Vegas cats. foxy brown is on here native chi-town's crucial conflict Nas is featured and the topper the Artist that according to billboard sells a record every 20 seconds or something along that line Celine Dion on the I'm Your Angel.

This album brings me to Michael Jackson's Dangerous in the many changes and dramatics. he is a very complex artist he will throw half on a baby out then I'm your Angel with Celine which went to number 1 and always seem to balance the two. going into this record folks didn't know what to expect after he went on stage with the Funky Preacher Kirk Franklin and proclaimed himself saved. no one knew what kind of record he was gonna make. and that's the great myth and making of this artist you never know what to expect. like all great artist before him he keeps it interesting. and he hasn't really broken super huge that's really incredible meaning he is serious about maintaining his R-N-B roots which seems like a lost art today. however when he wants to show off his sense for pop hooks mixed with Gospel feel then check out the Big hit for Michael Jordans Space Jam I Believe I can fly. that one song will be at many different events. folks not all but many don't realize this man's depth from Honey Love, Bump-n-grind, Your body's callin', down low nobody(has to know), you're not alone, Be careful(Sparkle) I'M your angel, I believe i can fly, along with working with Toni Braxton, the Isley Brothers and starting his own Rockland records.

In addition to mixing and engineering his own records. this guy has the Midas touch on it all. as a song-writer you never know what will come fourth from him. weather he becomes a full fledged preacher like Al Green before him that remains to be seen but he is a Preacher of music. that's his Genius. this album shows he can succeeded working with people like Kelly Price,Keith Murray,Celine Dion and still maintain himself. cuz most artist get lost after 9 songs with guest but not MR. Kelly. My personnel fave cut on this Joint is The Sam Cooke sounding IF I Could TURN Back The Hands Of Time. simply SOULFUL! and that's what separates him from many other artist. and that was cut 15 on disc one can you imagine what's in his vaults. the future looks very promising.
home I what's new I featured artists I archives