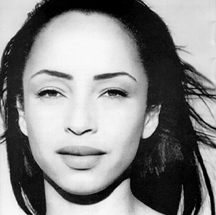 "Sade's Best of"
By Maximillian Muhammad
A singer with words that express hurt and loneliness, passion and togetherness are themes most wanted. Imagine a modern-day Billie Holiday who is highly accessible, and you've got Sade. Sade and her band court jazz, blues, pop, and emotion. Songs that leave that feeling are "Your Love is King," "Smooth Operator," "Jezebel," "The Sweetest Taboo," "Is it a Crime," "Paradise," "No Ordinary Love" "Love is Stronger than Pride" and "Pearls."
Yes, she sings her fair share of blue (i.e. off) notes but she captivates many with her tones and feelings. Just like Luther Vandross, her songs are misinterpreted for expressions of sexual pleasure, but really they speak of just finding love not having sex. This African Queen is as poetic as she is beautiful. She leaves listeners waiting for the next episode. She's a novel where only time will tell what will happen. But like Lady Day before her, she's left her imprint. And that isn't a crime.
home I what's new I featured artists I archives