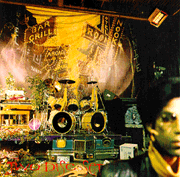 Prince's "Sign 'O the Times"
By Maximillian Muhammad
Though I haven't been crazy for Prince's albums in the 90s, as was the case in the 80s, he's still one of my many, many, many favorite artists. I've liked songs through this time period, but 10 years ago he released my favorite of his works and the 80s equal to that one-man genius of the 70s, Stevie Wonder's opus, "Songs in the key of life." His guitar playing in beat to the drum machine on the title cut, his plea to fall in love get married and have a baby.
To me, this was his marriage record and his views on the world. Funky keyboard grooves on "Hot Thing" and the scorching "Strange Relationship" hit, as do the anti-drug "Play in the Sunshine," one of his funkiest cuts. "HouseQuake" is one of the baddest rap cuts without going into rap. In the jazz haunted "The ballad of Dorothy Parker," Sly Stone whispers a piece of Joni Mitchell. Pop plays at the rawest on "It." His 60s flower-power is in full effect on the cult hit "Starfish and Coffee." He's relaxed and composed on the subtle "Slow Love." And to show the Geniuses of many trades, catch the catchy "U got the Look." The Dylanesque "Forever in my Life" includes a bit of folksy Bill Withers. The baddest song on the record, the synth funk cut "If I was your Girlfriend" explores and questions why a man can't share the most intimate moments with a woman. The song, shall we say, is in the hall of fame. Every Male artist should boast a cut like this at some time or another.
You feel the spiritual rush on "The Cross" and Prince was right recently when he said more people need to thank and talk to GOD. Shades of the Wizard of Oz on "It's gonna be a Beautiful Night" with Ellington-esque horns going on in the back. And of course, a story of a woman down on her luck looking for Love for all the wrong reasons on the guitar jammin "I Could Never Take the Place of Your Man" stands out. Then last but not least, the Curtis Mayfield inspired beauty of "Adore"...love, emotion and feelings couldn't have been said any better than this.
"Sign 'O the Times" shows Prince as writer, arranger, producer, instrumentalist, image-maker and a Brother on a mission. There's so much to love on this set. Prince never had to prove his goods to me; he's been bad for a long, long, time. An album of this magnitude should be in everyone's collection. People who are geniuses like Prince are musical treasures, and no matter what, should always be given their props. And believe me, even if he never recorded another record after this one it could still last centuries. His Sign was the one to follow.
home I what's new I featured artists I archives