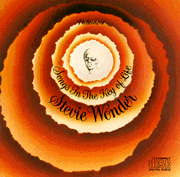 Stevie Wonder's "Songs in the Key of Life"
By Maximillian Muhammad
What can you say about this record that hasn't been said already? As a writer, arranger, producer and instrumentalist, Stevie can do it all. Words that are timeless ring throughout "Loves in Need of Love Today," "Have a Talk with God" and "Village Ghetto Land," as well as in the jazz tribute, "Sir Duke." The lessons that children don't know about, which parents try to teach, serves as the lyrical basis for "I Wish."
The blessings of a baby are at the heart of "Isn't She Lovely," as is an historic acknowledgement the African-American in "Black Man." Stevie considers the beauties of the world , its people and their surroundings in "If it's Magic." A classic cut that got revisited is "Pastime Paradise" (remember Coolio with L. V. on "Gangsta's Paradise"?), with its haunting violins and smooth synths.
When it comes to technology, Stevie has always been on the cutting edge. This record is so crisp sounding that a song like "Saturn" just glides by you. Same can be said about "Knocks Me Off My Feet." But the song that's deeper than words and to this day stops me in my tracks is "As." When you listen to the words of this genius, you believe and feel power of music. It's one of those songs that if Earth as we know it were to become flat and we had to pick a song to go to the next planet with our loved ones, it would have to come along. The sentiments and texture of this song are mind blowin'. And after "As," is the powerful "Another Star."
If Stevie isn't the best songwriter of all-time, then he's got to be in close tie for first. "Songs in the Key of Life" is a masterpiece, which to this day is regularly sampled and recreated, cover after cover. The record has even been completely redone by the artist Najee. The beauty and complexities in this life reflect in many avenues on this recording. Stevie showed on this record the many sides of genius that aren't in over 95% of the music of today. This record was, and is still, magic.
home I what's new I featured artists I archives