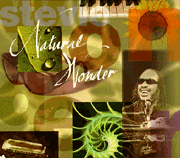 Stevie Wonder's "Natural Wonder"
By Maximillian Muhammad
Genius isn't a word given to many in any profession. But in the field of music, who would argue if the word were used to describe Steveland Morris, better known as Stevie Wonder to the whole wide world. The 70s were royal for this genius; the 80s were a technical let-down for hard-core fans, 'cuz aside from "Hotter Than July," everything else was average at best, excluding the "Original Musiquarium," a collection of hits. From "Talking Book," "Innervisions," "Fulfillness First Finale," "Songs In The Key Of Life," this was 70s, pure and simple genius. Before Prince and Babyface, this was the master of song and one-man-show.
"Natural Wonder," which was recorded in Japan, highlights those golden days. Along with four new cuts, this package contains "Pastime Paradise" from the Grammy award-winning, critically acclaimed album, "Songs In The Key Of Life"--primarily 'cuz of Rapper Coolio's mega hit, "Gangsta's Paradise." Other cuts from that album are also featured-- "Another Star," "If It's Magic," "Village Ghetto Land," "Sir Duke" and "I Wish." One oldy, the classic, "My Cherie Amour," and the often-covered "Signed, Sealed, Delivered, I'm Yours" are here. Off "Talking Book," there's "Superstition" and "You Are the Sunshine of My Life." He includes "Living for the City" from "Innervisions" and "Higher Ground," off "Fulfillness First Finale." Fast-forward to the 80s and you get "Master Blaster (Jammin)."
There's no particular order to these songs, but you already know what's classic any way by now. Then he does "Rocket Love" from "Hotter Than July," "Love's In Need of Love Today" and "Overjoyed," a sweet slow-flow from "In Square Circle" (1985). You'll find "I Just called to Say I Love You" from "The Lady in Red" soundtrack (an Oscar-winner), "Tomorrow Robins Will Sing" and the Grammy-winning, "For Your Love," from "Conversational Peace," recommended only for diehards, with the exception of "Cold Chill," which never saw the light of day (released, that is).
"Natural Wonders" is the best Stevie record in years. Why? 'Cuz it's the true genius at work and not the computers. In the 80s till now, there were just too many technology-driven songs and sappy trips. Today, no one writes songs like "Living for the City, or "I Wish," "Love's in Need of Love Today" and "Ribbon in the Sky," or says "I love you" with a "You are the Sunshine of My Life."
Stevie Wonder is a treasure, a true humanitarian, an African wizard of sound, mind and soul. R. Kelly, Aaron Hall, Jodeci, Charlie Wilson, and countless others know this man is the foundation we call artist, leader, brother and genius. This piece of music is timeless; it represents hard work, overcoming odds and inner visions to a world that is blind to what you see and know. I say go and find those classic recordings and see for yourself what's in those thoughts. It's a truly human experience from a genius that will long live.
home I what's new I featured artists I archives