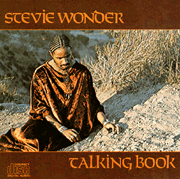 Stevie Wonder's "Talking Book"
By Maximillian Muhammad
Sentiments are the power of this Man and "Talking Book" was as deep as it got before "Songs in the Key of Life." On this record as writer, arranger, producer and instrumentalist, he broke major ground. With the funky synths and kicking drum on "Superstition," being lucky was never the same again. That same vibe can be felt on "Maybe Your Baby," the jazzy "You've Got it Bad" and, of course, on the stunning "You Are the Sunshine of My Life" (what sentiments), as well as the marriage anthem "You and I." "I Believe (When I fall in Love it Will be Forever)" and "Lookin' for Another Pure Love" are songs that convey unbelievable feeling. "Big Brother" and "Blame it on the Sun" take his writing to new heights.
"Tuesday Heartbreak" is the song for those who have truly felt blue. "Talking Book" has to be his most personal record, and at the same time, his most innovative 'cuz the sounds he gets on the keys are what are influencing New Jacks. And let's not forget his vocals...the gospel choir according to Ray Charles and Marvin Gaye. You can hear those styles on this work and those that followed. No one has stringed as many incredible albums consecutively as Stevie. And believe me, I mean it when I say "Talking Book" delivers on sound and substance. There's nothing Stevie couldn't play or say; he was the originator of the one-man band. Nothing to this day sounds as melodic as Stevie's 70s stuff.
home I what's new I featured artists I archives