Tevin Campbell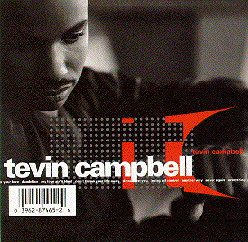 By Maximillian Muhammad

A voice can be a tricky thing: you never know how it's gonna go. Imagine if when you were 12 you worked with Quincy Jones, Prince, then did a vocal commercial singing with Michael Jackson and worked with Babyface... oh, all this before the old age of 18. Then the Queen herself Aretha Franklin commissions you to sing at her birthday party. That's a lifetime fantasy for many, but for this young old soul, the journey is just starting. His new album does him justice. His first two albums were all right, but it wasn't until his back to the world release when things really began to take off for him. He and his voice began reaching a new maturity.
While other young vocalists may try to pattern their styling after Michael Jackson, this guy can do it without trying hard. He has the pipes and talent to run with anybody. It's refreshing to see an artist grow up right before your eyes, especially one with solid chops. The Wycliff Jean-produced Never again is so laid-back and smooth you feel the soul. Another way is a solid track; very effective. The cut that says forget the past I'm here to last is the Narada Michael Walden produced track Don't throw your life away, with the background vocals a la Natural Woman. Aretha Franklin happens to be one of Tevin's favorite vocalist of all-time. He shows so much range it's scary. He even shows piano and production skills on Just Begun To grow, which speaks volumes after listening to this powerful talent. And to top it off, he does a song in Spanish, Siempre Estaras En Mi (Dandelion) and he pulls it off rather well.
I hope folks don't sleep on him cuz with so much generic soul out here today this Guy delivers. If you don't believe me, just ask Quincy Jones. Tevin is the sho-nuff truth.
home I what's new I featured artists I archives