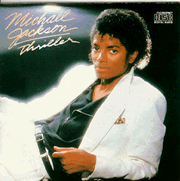 Michael Jackson's "Thriller"
By Maximillian Muhammad
There's no one like this Legend. Michael Jackson took music and visualized it into another stratosphere. Together with Quincy Jones, a Black Artist could command the world. Writer, arranger, producer, interpreter...nothing could stop the fire in this Man of Magic. If it's accessible pop, it was on "Thriller," which included "The Girl is Mine" with Paul McCartney, soul with gospel and Swahili chants on "Wanna be Startin' Somethin" and a precursor to New Jack Swing with "Baby be Mine."
When you listen to early new jack and the Teddy Riley and Michael Jackson collaborations on "Dangerous," you here the connection. But that's just another tribute to Michael's many talents. If it's poetic and light but full of expression, you got it with "Human Nature"...it soothes the soul. If rhythm and hooks are the key, then "PYT (Pretty Young Thing)" will definitely do the trick. Gory gore, well crafted hoaxes and rap are intact on the title cut. The video takes the song even further. On the smoothed out tip is a song and style that many fans of the adult Michael wish he would do an album of...the song, "The Lady In My Life." His voice is still strong and material like this would blow folks away. He's got the goods to do it.
The last tracks are special musically and visually. They express volumes to the mind. "Beat it" took on gang life before anyone else seemed to acknowledge it seriously. Combined with synths, drum machine and Eddie Van Halen's solo, this cut opened another area to Black pop. And the amazing thing is that it all works. Quincy Jones' typical top-of-the-line horn arrangements and African voicing effects to go along with top-of-the-line studio geniuses, which all together made this a landmark record.
But the best is saved for last...a song that to this day blows me away. It had to be written by a dancer 'cuz a remote control couch potato couldn't groove about a stalker demanding a ransom (something that has become the norm now) and put on such a first-rate performance on TV. This song, as performed on "Motown 25" is still my all-time favorite TV performance. Michael showed on this cut it was he and Quincy very much on the production. The song, of course, is Michael's signature, "Billie Jean."
From the Steely Dan-like bass line to Michael's quest to prove his truth, this album proved to America that a Black Artist could scale the heights just like anyone else and it defy categories. Michael couldn't be denied. He broke all the rules and invented some new ones on this master piece. This is his albatross, though. But if this is catch-22, why would you wanna be stuck on 11?
With "Thriller," Michael not only became a legend, but a "King Of Pop." Combined with the other writers, arrangers and players on this record, it's still game and very fresh 15 years later. It's still a Thriller.
home I what's new I featured artists I archives